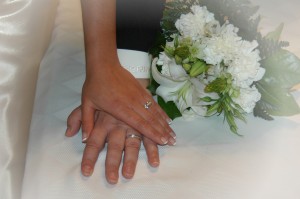 If you are looking for assistance with designing your wedding invitations then you will want to read this article. Wedding invitations are a very important part of your wedding. It is the means that you initially inform many family and friends that you are getting married. It also gives those family and friends permission to be part of your big day. In this article we will discuss the brief history of invitations and your options today, local versus online printers, and some frequently asked questions.  After reading this article you should be more prepared to for the questions you will have to answer when placing an order for invitations.
Wedding stationary is traditionally formal in nature. However, over the past several years it has become less formal. This trend has been driven by the advancement in home printing equipment. Many homes have desktop printers that are capable of producing a decent quality piece. Many brides have pulled out their creativity license and designed invitations to match their budget. As a result, many printers now offer full customizable invitations, thank you cards, programs, RSVP cards, menus and much more!  One of the more current popular designs is a vertical tri-fold with a detachable RSVP Card. The invitation folds up to approximately post card size and already has a return address printed on it. This allows the couple to quickly mail out their invitations without the traditional hassle of stuffing and addressing envelopes. The trend in affordable printing has given couples an extensive amount of choices when it comes to selecting their invitations and other wedding stationary.
The other result of affordable printing is the rapid growth of online printers. Online printers offer very affordable printing and the convenience of being able to order 24 hours a day. While this may initially seem like a benefit, I will say be careful before selecting this option. This is your big day and you want everything to be perfect. A local printer can offer many benefits that an online printer cannot. The first benefit is you can actually walk in and see examples of past work from a printer. You can first hand inspect the quality. The second benefit is that you can talk to someone face to face and they understand what you want. Many times online retailers offer templates that you can "customize," but if you want something outside of that template then either your price goes up or your out of luck. The third benefit is speed. Online printers can take weeks to produce and ship your invitations to you. If you are that busy bride who needs invitations tomorrow, a local printer can be a life saver. Local printers have the ability to shift production to meet your needs. While they can't always drop a "big" job, they will work to make sure you get what you need ontime!
There are several frequently asked questions that couples have when ordering invitations. While I cannot answer them all in this article, I will attempt to answer a few common questions.
When should I mail out my invitations?

You want to give your guest plenty of time make arrangements such as airfare and hotel accommodations. The general rule of thumb is to mail your invitations out 6 to 8 weeks before your wedding.  It is appropriate to use a Save The Date card if you wish to give notice before that.

What information do I need for my invitations?

It is very common for couples planning a wedding to get overwhelmed. When it comes time to order your invitations you will need the following information:

Names of Bride and Groom
Names of Bride and Groom's Parents
Date, Time, and Location of Ceremony
Date, Time, and Location of Reception
Where the invitee needs to reply to (RSVP address)
Whether you want formal or informal wording

Then leave the rest up to your printer. They have produced thousands of invites and they know what they are doing.
Now that you know about the brief history of wedding invitations it is time for you to decide whether you want a formal or informal invitation. Once you decide that and you know the answers to the frequently asked questions above, proceed down to your local printer and see what they have to offer. If you are in the Southeast Missouri Area, call Minit Print at 573-785-0931. We would be happy to help make your day special.